BabyTEC was started with the commitment to satisfy the needs of the childcare accessory sector by offering an integral service to the client.
Strategy
We work hand in hand with the client to define a safe and appropriate strategy for each of our clients' projects.
Technology
We have the most modern and cutting edge technology within the childcare sector.
Creativity
We apply our imagination and creativity to all our designs so BabyTec can make a difference and be unique.
Security
With BabyTec you have all the security and experience of more than 20 years working in the newborn sector.
To offer the highest quality to our customers based on their needs, in the product format, delivery times and production quantities you want, we don´t insist on a minimum order size- and all with our personalized treatment.
We offer all our clients the most modern technology within the sector, as well as ensuring maximum safety and experience in the field.
We manage all the processes necessary for the manufacture of our products:
Our molds are created by highly qualified experts, with 100% European materials and technology, guaranteeing satisfaction with the end product.
The highest quality BPA free materials are injection molded and are 100% in accordance with all the European regulations regarding this type of product.
Assembly of the product is conducted in a controlled environment clean room.
We have our own graphic design department to fully customize the work for each client.
We manage a tried and tested European supply chain to offer the best service in the minimum of time.
By working closely with our partners in the sector, we offer a very comprehensive service.
Our molds and tools have been designed and manufactured in Spain to the most rigorous quality and precision controls. That can only be achieved by working with the leading companies in the sector, and we in turn can offer the same professional standards and quality to our customers.
We use reusable packaging, which gives us an advantage over our competitors.
Technology

100%

Product Safety

100%

Personalization

100%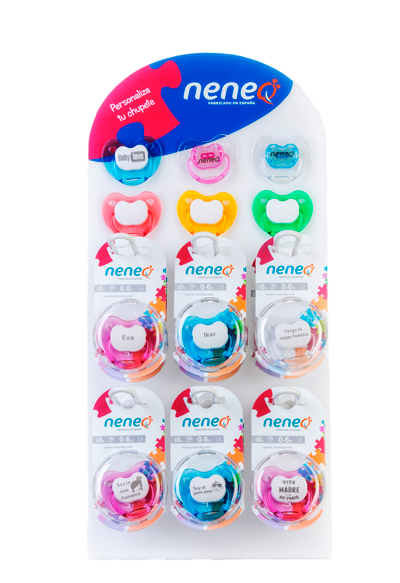 NeneQ (On Sale In Drug stores)
Created to catch impulse buyers and then keep customer loyalty with the exclusive customization of the item.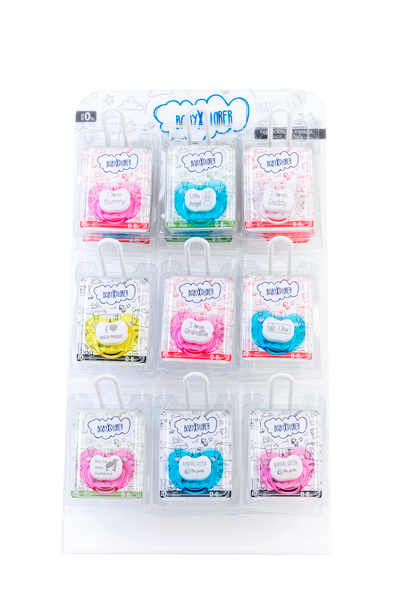 BabyXplorer
The same quality as NeneQ but with a different image and packaging. This range has a more informal but equally original and attractive look.
European Quality Certifications of Our Products